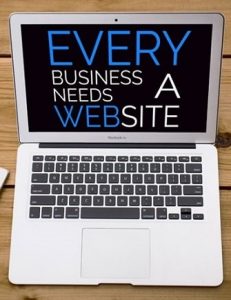 Why every Nigerian business should have a website. While the overall performance of virtually every structure of the Nigerian society is discouraging and far behind that of other developed nations, the same cannot be said about its telecommunication sector due in part to the input of private investors. Yes, we lack the adequate social amenities required to have a healthy lifestyle as a nation, but we are not far behind in terms of digital presence on the cyberspace.
With an average of 103 million internet users in the last five month (Source: NCC), Nigeria is gradually becoming a nation where not having an online presence for a business will be akin to not having a business at all.
For the vast majority of internet users, the very first place they visit when they need information about any product or service is the internet. As such, the significance of having an Online presence cannot be overemphasized as it is gradually taking precedence over having a physical presence. In fact, the widespread use of the internet in Nigeria has made it possible for any business-minded individual to have a successful business without necessarily having a brick n mortar store/office.
Without further ado, let's take a look at ten of the most important reasons why you should have a website as a Nigerian Business owner.
Increases turnover: The main aim of every business owner is to increase profit and reduce overhead cost without necessarily compromising on the quality of output. By having a fully optimized business website built by an experienced web development firm, your presence on Google's SERP will significantly improve and you will, in turn, have higher leads which can be converted into sales.
Provides 24/7 virtual presence: Unlike a brick n mortar store/office where you will have to close at a specific time, having an effective website affords the owner around the clock presence. As a result, web visitors can always visit your website at any moment for information pertaining to the services you offer and maybe initiate transactions.
Cheaper Advert medium: Not only is advert placement via the cyberspace cheaper than that of other media tools like the television, radio and print media, it is also more effective and capable of producing higher leads due to the fact that lots of people are gradually spending more time on their internet-enabled smartphones and computers than on any other mass media tools.
Gives you the opportunity to stay ahead of your competitors: By having a virtual presence, you are not limited by physical space. As such, you can showcase as many items you want on your website without consuming extra space and incurring the additional cost of hiring more staff members.
Opportunity to attract clients beyond geographical boundaries: Unlike a physical store, having a business website affords you the opportunity to have clients that transcend beyond your present geographical boundary.
A streamlined marketing strategy: As a website owner, you get to receive data about web visitor's interest. This gives you the opportunity to redesign your marketing strategy to target your potential clients alone.
Adds Credibility to your business: Regardless of the type of business you are running, having an operational website for your business boosts its public image as a reputable firm willing to adapt to new realities.
An automated customer support system: With a business website, you can save yourself from the additional stress and manpower required to attend to customers' enquiries, requests and complaints by having a comprehensive FAQ, a chatbot and other automated media of communication preinstalled on your website.
An easier alternative for clients: Even in states where traffic congestion is almost non-existent, the majority will still prefer to have their commodity of choice delivered to their doorstep instead of having to be in a brick n mortar store/office for purchases. By consulting us at Lead web, we can help you integrate the home delivery and other customer-friendly media available to make transactions seamless for your clients.
Increase your client's base: Should your existing clients be kind enough to use the review option to share their experience with the public, this will inevitably increase your client base as long as the comments are positive.
Keep in mind that the above is definitely not an exclusive list of the opportunities associated with having a business website in Nigeria since discoveries are still being unveiled. You should also know that your chances of maximizing the plethora of opportunities floating on the cyberspace depend largely on the web development agency you contacted for this service.
We provide a flexible payment plan and there is a website for every budget(i.e Small business or Hybrid Business). For more information about the steps required to own an effective business website in Nigeria, you can contact us via any of the medium contained on our contact page or Contact us on +2349039983860