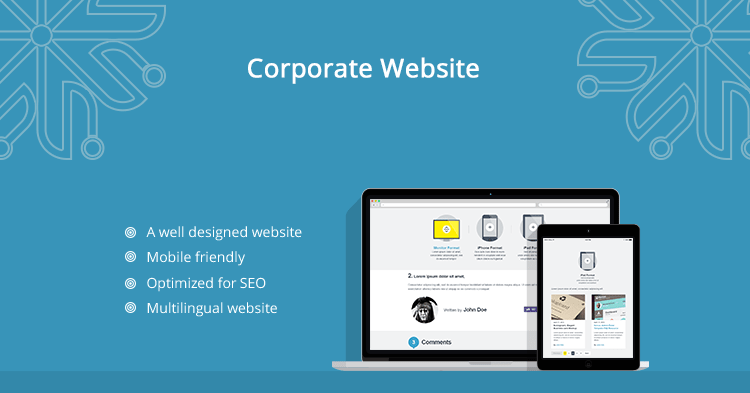 For organizations interested in having an editable online brochure that consistently allows them to display their product/services and introduce new ones to customers, having a corporate website will serve this purpose efficiently.
Regardless of the amount of data you intend to have on this type of website, you can be assured of a fully-optimized website when you contact us at Lead Web Praxis for a corporate website.
As a new or existing entrepreneur, you need a corporate Web design to showcase your business to the world. Over the past several years, corporate Website design has contributed immensely to the breakthrough of several businesses in Nigeria with the help of Best Corporate Website Designer.
      Lead Web Praxis is a world-class and Abuja-based digital agency, offering web design, digital marketing and branding services. Regardless of the nature of your business, we design corporate websites for companies which in turn serve as an imaginary train converging a multitude of clients from different locations down to your business.
Features of our Corporate Website
Mobile friendly: A mobile-friendly website pulls more traffic due to the proliferation of smartphone usage. Smartphones are not only affordable but also convenient for users to use in accessing web pages on the go. A corporate website with mobile view option will definitely have more visits that can be converted into leads.
Good Content: At Lead Web Praxis, we utilise accurate and straight-forward content in every corporate website we develop for our clients. We had overtime realised that most web visitors are lazy to read ambiguous web contents. We always try as much as possible to use proper grammar, keep statements clear, accurate, brief and concise.
Navigation: All corporate websites designed by our firm are very easy to navigate. Our organization of pictures, slides and web contents is greatly influenced by the desire to ease navigation for your web visitors.
Testimonials: We are also aware that testimonials and feedbacks are very important in business. Most clients rely on the reviews clients give before they patronize. That is why all corporate websites designed by our company include a special page where customers can drop feedbacks about the products and services rendered to them.
Social Media Integration: Nowadays social media have advanced to an avenue where businesses can also be promoted. All corporate websites designed by our company have the capacity to promote business presence on the social media. This, in turn, boosts business SEO and its footprint on the social
Our Corporate Website Management Services
At Lead Web Praxis, we help our customers manage their website for their business to attract several customers from every corner of Abuja, Nigeria and the outside world. Our corporate website management services include; Search Engine Optimization, web hosting, Email Marketing Management, Technical Support, Website Content Update, Graphic Design among others.
A brief description of some of these services;
Search Engine Optimization: At Lead Web Praxis, we help you maximize the number of visitors visiting your corporate website by ensuring that your site appears high on the list of results returned by a search engine.
Web hosting: All the hosting companies used by us are worthy companies. We will link your websites to the most affordable and efficient hosting companies at all times so as to ensure that it can be accessed from any part of the world at all times.
Technical Supports: Acquiring a corporate website from us automatically guarantees top-rated technical support from us. We have competent IT engineers that are capable of handling several IT related issues.
Website Content Update: Having a good web content significantly reduces bounce rate on any website. At Lead Web Praxis, we are always available to update your corporate website with new contents whenever the need arises.
Graphic Design: As a premium digital agency, we are also involved in quality graphics. Our graphics artists are well vast in all the major software application used in making graphical designs.
 Corporate Website Design Case Studies
At Lead Web Praxis, our corporate website package is ideal for businesses/organizations that require regular updates, maintenance of large database and traffic volume.
Platforms we use
Conclusively, at Lead Web Praxis, we utilize web development platforms like WordPress, Joomla, Wix, Squarespace, among others. If you are thinking of having your own corporate Website, you can get in touch with us as we promise you of a mind-blowing service which is available at an affordable cost.
Our office is located in Suite C1 EFAB Mall, Ahmadu Bello Way Area 11, Garki, FCT Abuja, Nigeria. Email: sales@Lead Web Praxispraxis.com. Phone: +2349039983860, +2348181409266
Let's discuss your Project